CALENDAR, EVENTS, & INFO
---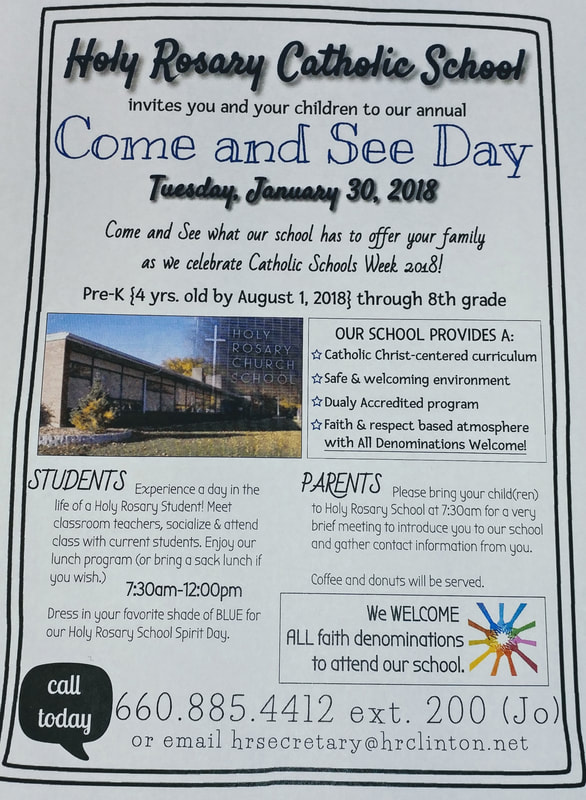 ---
Sycamore Login Page

Please click the button below to be taken to our secured parent login page.
---
​Upcoming Events:

January 22-26, 2018
Monday: Basketball 7/8 Girls Optimist 8pm
Tuesday: Basketball @ Harrisonville Christian 7/8 Girls 5:30pm; 7/8 Boys 6:30pm
Wednesday: Basketball 7/8 Boys Optimist 8pm
Thursday: Basketball 7/8 Boys Optimist 7pm
Friday: 100th Day of School Celebration 1pm; Basketball @ HOME vs. St. Peter's 5/6 Girls 5pm 7/8 Girls 6pm; 7/8 Boys 7pm


Catholic Schools Week begins Sunday, January 28, 2018

Jan 29 - Pajama Day
Jan 30 - Spirit Day Come & See Day 7:30am-12pm Family Reading Night 5:30-6:30pm
Jan 31- Wacky Wednesday Bible Bowl 1pm
Feb 1 - Hawaiian Day
Feb 2 - Wild Animal Day Grandparent Tea 10am Early dismissal 12:15pm
Feb 3 - Closing Mass 5pm with a reception to follow in the Parish Hall

Scholastic Book Fair Open daily for students and 3:30-5pm to all families and public



---
School Calendar
---
VIRTUS
Protecting God's Children Training
If you plan to volunteer or participate in class parties, field trips, etc. you MUST have this important training completed. If you know someone who is not part of our parish or is not a parent, like a grandparent or other family member that would be part of our school events, please pass this information to them. There are various times in which training is held in order to accommodate your schedule.
​
Steps to Register:
1. Log on to
www.virtus.org
2. Click the link "First Time Registrant"
3. Click "Begin the Registration Process"
4. Select the "Kansas City/St. Joseph diocese"
5. Complete the 3-step screening process (follow the site's directions)
Please call Andrea Harris with any questions or assistance.
​660-885-4412
---
---
School Documents
---